The M2S Research lab on the Ker Lann Campus is open to osteopathy students
RENNES IO and Rennes 2 University are partners
Osteopathic treatment assessment in sports science is based on the use of biomechanical research tools. The partnership between the Rennes Institute of Osteopathy and Rennes 2 University gives osteopathy students access to the resources of the M2S "Movement, Sport and Health" research lab to implement movement modelling and simulation protocols, under the supervision of Mathieu Ménard, PhD in Biomechanics and Associate Research Fellow with the M2S laboratory. These experiments are designed to ultimately improve our understanding and treatment of musculoskeletal disorders.
Study of physical activity
The M2S lab adopts a holistic approach to physical activity. It studies the mechanisms and their effects, using tools and methods grounded in physiology and biomechanics. Sport and health are the most natural fields of application. One of the lab's aims is to improve the benefit/risk ratio of physical activity in healthy individuals and in those with pathologies.
Osteopathy students carry out research projects during their course, using their internships, in particular within companies and at Rennes IO's osteopathic clinic, to investigate a number of common topics, such as MSDs for example.
IO Rennes therefore naturally cooperates with the M2S lab, located only 200 metres away on the Ker Lann Campus. "Research is an integral part of our study programme. It is one of the key assets helping us gain recognition, as osteopaths, in the medical and scientific world" [Marylène Bourgin].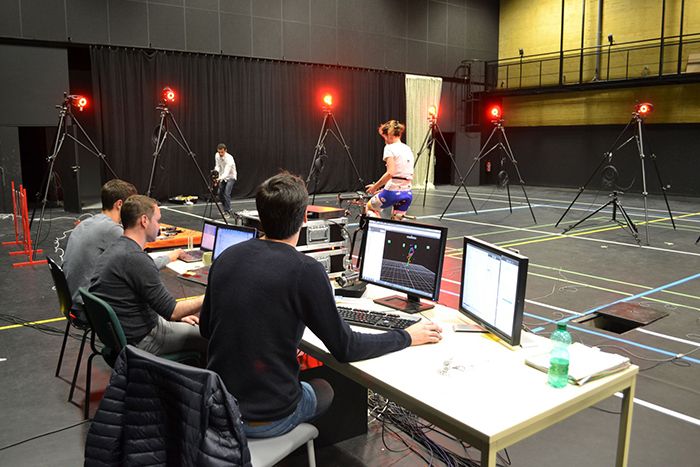 A leading research facility, boosting RENNES' POSITION IN THE WORLD UNIVERSITY RANKING
The M2S laboratory, headed by Professor Benoît Bideau, is housed in a 2,000 m2 building on the Ker Lann Campus, next to the Rennes ENS (Ecole Normale Supérieure) and only 200 metres from IO Rennes. The premises house experimentation and research facilities, making it one of France's leading research centres for the study of sporting activity in relation to health, and of sports performance and ergonomics.
A 900 m2 platform is dedicated to movement capture and analysis. This includes a gymnasium and a virtual reality room used for high definition interaction, leading to a better understanding and improved learning of motor performance through simulation. This research has, in particular, led to improved training and coaching practices, with reduced risk of injury. In the health field, the laboratory has helped to foster a better understanding of the benefits and risks of sporting practice in relation to certain diseases.
In January 2017, the M2S lab's research output earned it a place among the top 200 in the prestigious Shanghai Academic Ranking, in the Sports Science category. This world ranking drawn up by researchers from Jiao-Tong University is based on the international outreach of the university through its publications, its research staff and its students. It highlights the scientific quality of the research conducted by the establishment. This allows students of the Rennes Institute of Osteopathy to conduct the experiments for their final year dissertation in an exceptional scientific environment.